Frequently Asked Questions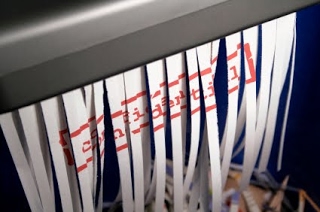 Why use a shredding service instead of using our own shredder?
Money! It will cost you 3 to 5 times more to use a shredding machine than to hire a shredding service. The cost of the shredder, labor cost, office space, maintenance, power cost, and disposal cost all add up to much more than we charge. All the work is done for you by the best local companies. If you shred just 1-2 cases of paper per month, a shredding service will save you money.
How do you ensure the security of our documents?
All material is shredded at your location or at a secure off-site facility.
Do we need to remove paper clips and staples?
No. Mobile equipment shreds up to 3 tons of paper per hour and can shred any paper. Plus your employees can focus on their job, not shredding.
Do you recycle?
Yes, where possible. Some paper cannot be recycled due to plastic or metal in the paper.
How do you charge for your services?
The fee is largely determined by the quantity of material shredded, not by the minute. So you'll always know what your fee is based on what you have to be destroyed.
How is the paper strip shredded?
Our partners use a variety of methods but the most common is called pierce and tear.
Are there any restrictions about what we can we put in the security containers?
No. Any color or type of paper, including paper clips, staples, rubber bands, labels, and file tabs are OK.
Get Free Quotes on Shredding Services in Portland
Portland Shredding Service is dedicated to helping customers find the right document management solution for their specific project. We offer free quotes on a variety of document shredding and scanning services in your neighborhood.
To learn more about the various shredding services available at Portland Shredding Service, either fill out the form to the left or simply give us a call at (503) 334-0686 today to get started.